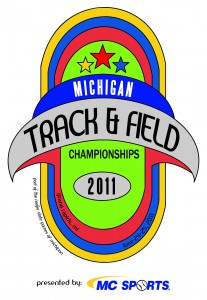 Registration for the 2011 Michigan Track & Field Championships presented by MC Sports part of the 2nd Annual Meijer State Games of Michigan is now open.
Heading into the second year of this event,  the goal is to create a Track & Field meet for all ages that will serve many purposes. With the timing of this meet high school athletes will be able to compete one more time only weeks after the State and Regional meets. Junior Olympic and USATF athletes will have a warm-up meet for the national championship meets held just a few weeks later.
New to this year's event is the Fastest Kid in Grand Rapids 100m Dash open to Boys & Girls ages 8 and under from any city in Michigan. This event will be have preliminaries to be run at Houseman Field on June 24, 2011 and the top 16 finishers from these preliminaries will advance to the finals to be run the following day, June 25, 2011 at East Kentwood High School. The athlete with the fastest time in these finals will be crowned "The Fastest Kid in Grand Rapids"
This year's event will again offer the 5k Road Race to be run at EKHS on June 25, 2011 and in addition to the events offered last year we have added more events that will increase competition opportunities for athletes of all ages.
Regardless of times, heights, and medals, the Michigan Track & Field Championship is ultimately about having fun. Along with first-class competition, athletes will have the experience of a lifetime and be a part of an event that will grow and grow for years to come.
New to this years competition is the Team Challenge. Open to clubs/ groups of 6+, the Team Challege is based on total number of entries by your team. (5 athletes x 4 events each = Team Score of 20)
The team with the highest score at the end of the weekend will recieve a $250 equipment credit for their team courtesy of KP Athletics.
Date & Location:
Friday, June 24, 2011
Houseman Field
Corner of Diamond & Fountain St.
Grand Rapids, MI 49503
Saturday, June 25, 2011
East Kentwood High School
6230 Kalamazoo Avenue
Kentwood, Michigan 49508