FinishLynx is the worldwide leader in Fully Automatic Timing (FAT). Operating our FinishLynx FAT camera we are able to electronically capture the starting gun and then generate an accurate time for each athlete at the finish using the patented "time sequenced" FinishLynx photo at up to 1000 frames per second.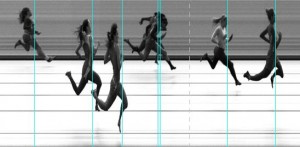 We have timed many track and field meets including:
middle school
high school dual and double dual meets
high school conference meets
state tournament regional track and field meets
MITCA Team State Meets
MHSAA Final Track and Field Meets
State Games of Michigan
College Track and Field Meets
Large and Small Track and Field Invitational Meets
Community and All Comer Track and Field Competitions
FinishLynx technology is also appropriate for use in some non-FAT environments when accurate finishes are important including bike races, kayak and canoe racing, crew, etc. Our long range lens can be positioned on shore for example on a river and accurately capture a finish.
We can handle all details of the meet or event contracted too us, often including meet management, registration of athletes, seeding, heats, preliminary events, exhibition or junior varsity competitions, finals, etc. We generate results promptly and post on-site or utilize scoreboard capabilities at facilities that possess them.
Contact us today to discuss how we can be of service to your school or organization or to receive a quote on our services for your upcoming event.
Email: events@michianatiming.com
Phone: 616-821-3156