How I got on this topic tonight? Well, I just visited the Catolina Marathon site — and I'm totally confused. There is a lawsuit as the event organizer asserts that another organization wishes to "take over the event." So is the race on or off? Are there two events?
So Mr. Holmes, how does this fit with race registration fee issues? The answer is because I first started looking at them because of a discussion about active.com convenience fees. We have elected to do our own registration for our customers who seek race registration as we can provide the service at a better price, we believe, without the advertisements, offers of membership, and other somewhat bothersome side issues. While one can argue that we offer less, I suppose, that is the beauty of it, a race director can decide what he or she wished to do.
Our race registration system offers the following benefits:
1. cost is below industry standard
2. no advertisements or other distractions
3. no membership required
4. we do collect a waiver that incorporates your waiver as well
5. option to "pass-on" the fee to a participant or to absorb it as a race cost (keep in mind the following two points: 1. even if you pass it on, it is less than industry standards; and 2. it may be in your best interest as a race director to minimize paperwork and someone has to type all of those paper entries — so you may benefit by absorbing the fee in less effort and more time to concentrate on the important stuff you have to do to pull off an event with the WOW factor).
6. it accepts all major credit cards and account transfers using the trusted paypal transaction system — participants do NOT need a paypal account
7. you get to deal with us — and we will not pass you around for an hour on voice mail — we'll talk directly to you and answer your questions
8. available to you whether we are timing your event or not.
If you have interest, simply hit our contact link above and let us discuss the benefits to your event.
For a $120 event like that with 650 finishers, we could have charged a convenience fee of $6.20, half of the reported fee being charged and we could have allowed people to make an additional contribution to the charity — perhaps enough would have been donated to have avoided the lawsuit if in fact it is about how much was being donated.
Here is our fee structure: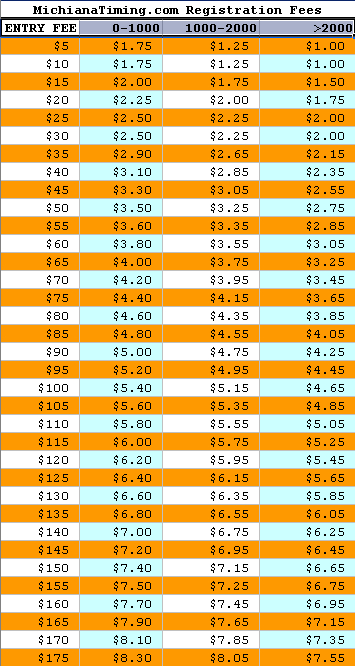 In any event, how can we help you?