Don Anderson Invite 2011
Welcome to the 2011 Don Anderson Invite. We are very excited about the teams attending this year.
Meet Registration and Results will be on Athletic.net (Link).
The course has changed slightly this year. Please take the time to review it carefully with your team.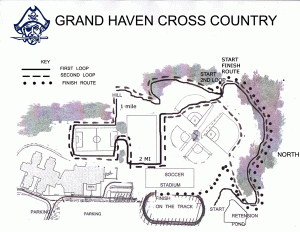 If you have not yet returned a contract, please do so immediately. Here is the contract.
Entries are requested by Tuesday August 23rd, 2011 at noon via Athletic.net.
To use Athletic.net, you need to do the following:
1. have an account and be signed into it
2. from your team homepage click on "edit athletes" and update your roster — either type them one at a time or upload a four column excel spread sheet
3. go to the meet page and click on "register athletes" link — you only see this is logged in
4. enter all athletes who may participate
Currently we anticipate running all athletes of same gender in one race, however if numbers justify we may split to a second JV race for each gender.
---
2011 Patriot Day Run Info
Results are posted.
Results Link: Link
Download Race Flier and Paper Entry Form Here

July 2, 2011
5 K Race & 5K Walk – 8:30 am
1 Mile Fun Run – 9:00 am
Where: Grand Haven High School, 17001 Ferris. Grand Haven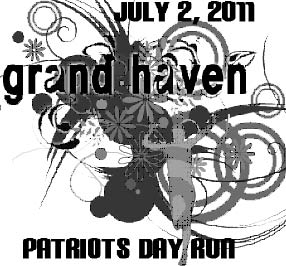 Packet Pick-Up
When: Friday July 1, 6:00 pm-8:00 pm
Also: Saturday July 2, 7:00 am-8:00 am
Age Divisions
5 K Male & Female
(10 & under) (11-13) (14-18) (19-24) (25-29) (30-34) (35-39) (40-44) (45-49) (50-54) (55-59) (60-69) (70 & over)
1 Mile Fun Run: All Ages
At Grand Haven High School
Sponsored by
Grand Haven
Cross Country Team
Computer Chip Timing